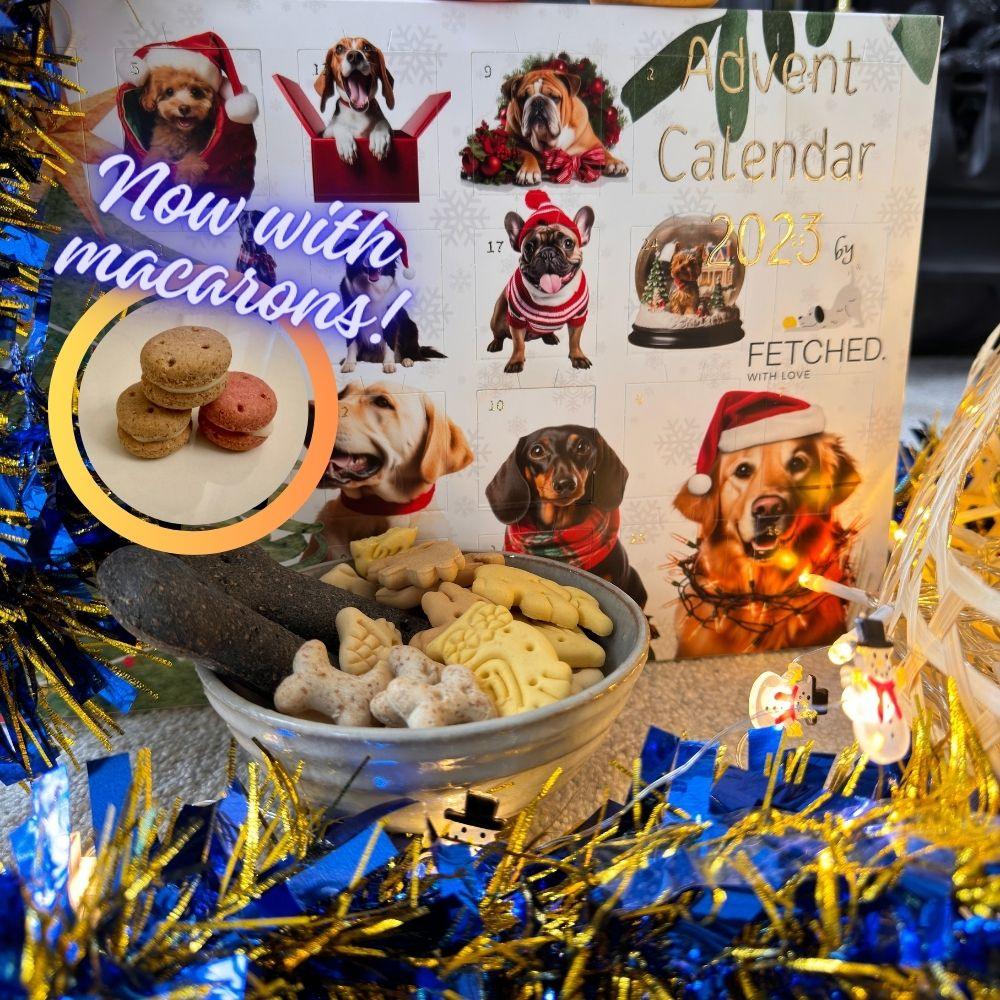 Sale price
£52.95
Regular price
£59.95
Tax included.
Limited Edition
24 surprises for you and your dog
Natural & Home made animal biscuits, charcoal bones and macarons!
Dog Advent Calendar 2023
Sale price
£52.95
Regular price
£59.95
Product description
Shipping & Return
 A dog advent calendar is the ideal way to have your loving dog join in to celebrate with you the advent of Christmas!

With 24 treats in total, one behind every date starting from the 1st of December, your dog will not be disappointed. Order now for shipping worldwide.
**Our first batch has shipped on 15th November**
All advent calendars will be freshly packed in the month of November to ensure the freshness of all dog treats.
What is a dog advent calendar?
Although advent calendars for humans have been around since the 19th century, the ones for our four-legged friend are relatively more recent.
Their popularity has literally shot up in the last few years, together with the popularity of other dog treats, and supplements. The main push factor behind this is the humanisation of pets. We all want to treat our dogs in the best way possible.
Sharing important traditions and festivities with all our family members is important for our well-being. Your dog is also likely to feel more appreciated and part of the family if you engage him in this daily routine; at least for the month of December!
Dog advent calendars come in many shapes and forms.
You have the option to make your own of course, and those more craft oriented may prefer this.
For everyone else, you can buy dog friendly, already-made, and packed advent calendars that you can just enjoy opening with your pooch every morning.
The Fetched Dog Advent Calendar

Due to high demand, our brand new and limited edition advent calendar will be released in batches throughout the months of September to November. Our first batch will be released on 27th September this year! Please note, this product ships mid November.
Each calendar comes with several dog biscuits in the form of animals and large or smaller bones.
The larger bones would be too big to fit into one square, so they are usually split in half. 
Here is the content of all our dog treats from the advent calendar:
Advent Calendar Content
Large bones
Oven cooked, delicious treats. Made in UK!
Ingredients: Cereals, Minerals (4% Charcoal), Oils and Fats.
Composition: Protein 9%, Fibre 2.5%, Fat content 8%, Ash 8%.
Mini cheesy bones
Amazing crunchy biscuits suitable for even the smallest of dogs!
Ingredients: Cereals, Oils and Fats, Minerals (3.8% Calcium Carbonate), Milk and Milk derivatives (1.8% skimmed milk powder), Cheese Powder (1.5%)
Composition: Protein 11%, Crude Fibre 2%, Fat content 6%, Crude Ash 7.5%.
Animal Figures Biscuits
These thin and crispy biscuits are perfect for any dog, no matter the size. They also contain charcoal, to aid digestion. These treats are also enriched with vitamins and minerals and their crunchy texture helps with the dog teeth cleaning!
Ingredients: Cereals, Oils and Fats, Minerals (3.4% milled charcoal), Meat and Animal derivatives
Composition: Protein 11%, Crude fibre 3%, Fat content 6%, Crude ash 2.5%.
Store the dog advent calendar in a cool, dry place. It's all best before 01/05/2024.
Dog Macarons:
Complementary pet food for adult dogs.
Our advent calendar comes with at least three home made macarons. It's your dog's challenge to find them all!
Due to their size, please ensure you break it down further for smaller dogs to prevent choking.
Ingredients: Cereals, Various Sugars, Oils and Fats, Milk and Milk derivatives, Minerals, Meat and Animal Derivatives, Derivatives of Vegetable Origin.
Composition: Protein 6.4%, Crude Fibre 1.9%, Crude Fat 16%, Crude Ash 3.8%.
We have now started shipping our advent calendar. Available in limited editions. When it's gone, it's gone!

Still looking for something more substantial? Check out our dog hamper baskets collection for the most discerning dogs.
Shipping cost is based on weight. Just add products to your cart and use the Shipping Calculator to see the shipping price.
We want you to be 100% satisfied with your purchase. Items can be returned or exchanged within 30 days of delivery.