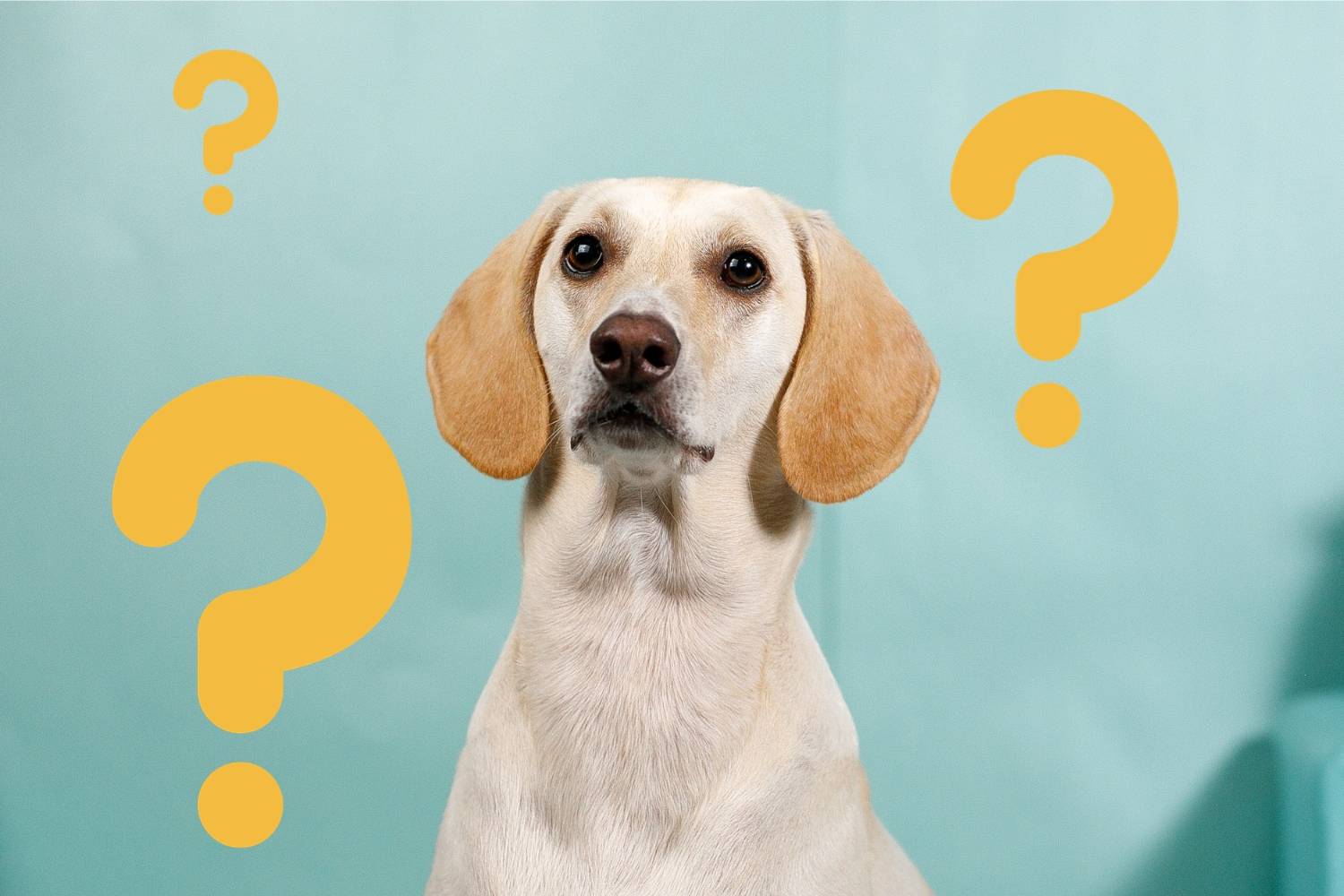 View the frequently asked questions below
When will my order arrive?
We aim to ship the next day and you should receive your order within 2-3 days to most UK addresses.
International orders will take longer.
Please contact us if you have any queries regarding shipping options or if you want to make any changes to your shipping after you have already submitted your order.
We currently deliver all of our products to the U.K and Northern Ireland.
We also deliver select products (such as our advent calendar) to U.S.A. and Canada
What are my shipping options?
For orders to the U.K and Northern Ireland we offer free standard shipping over £30.
If you need express delivery, this costs £2.99 and is payable at checkout.
Do you offer a guarantee?
Yes, our Happily Fetched guarantee offers a 30 day money back guarantee. If you are unhappy with one of our products for any reason, you can return it and we will refund you.
How do I return an order?
We really want you to be happy with our products. If you are unsatisfied with the product for any reason, please get in touch with us and we will provide you with a return number and a return address.
Your refund will be issued within 2-3 working days of receiving the returned product.
Please get in touch with us. We can arrange these on a case by case basis but often it's better to return the order you want exchanged, after which we refund you and you can then order the new item.
Can the Fetched supplements be used daily?
Yes, our supplements are made for daily use. In fact, we recommend regular use so the nutrients and the active ingredients get the chance to build up and for maximum benefit.
This same advice would apply to human supplements that are often advised to be taken daily.
Are the supplements and superfoods safe for all ages and breeds?
Yes, the supplements are suitable for all breeds, from Toy Poodles and Chihuahuas, to Border Collies, Labradors (like our Charlie!) and even Great danes!
With regards to age, we would advise to only give these supplements to dogs older than 12 months. Prior to this age, they shouldn't have any requirements for extra supplements.
The exception is our dog calming food topper which is suitable from 12 weeks onwards.
Can these supplements be given to cats?
No, we would not recommend giving these supplements to cats. They are specifically formulated for dogs and we therefore cannot guarantee their efficacy or safety in cats.
Can your supplements be used with prescription only medicines?

Yes, our supplements can be used with most prescription only medicine for dogs.
One exception is our dental cleaning powder which should not be used in dogs who are on Levothyroxine or Carbimazole or if they have any thyroid problems. This is because of the higher level of natural iodine from the seaweed.
If you have any concerns please check with your Vet.
Is there anything I should look out for when initiating my dog on Fetched supplements?
Like with most changes to a dog's diet, introducing Fetched superfoods & supplements may occasionally cause a mild stomach upset.
If this happens, stop the Fetched supplements, let the digestive system settle down and reintroduce again after at least a week. This time start at a lower amount and slowly increase the amount daily up to the recommendation on the label. This will allow the digestive system time to adjust to the new dietary elements.
How do I know how much of the powder to give?
Each of our products comes with its own scoop. The scoop is enclosed inside the packaging. The sizes vary. If you can't find the scoop, turn the bag upside down as it may have shifted to the bottom during transport. If you still can't find it please contact us and we will ship you a spare scoop with next day delivery.
The scoop size and amount of scoops recommended will depend on the size of the dog and the type of supplement. These are written in detail on the back.
For example, these are the probiotic feeding guidelines: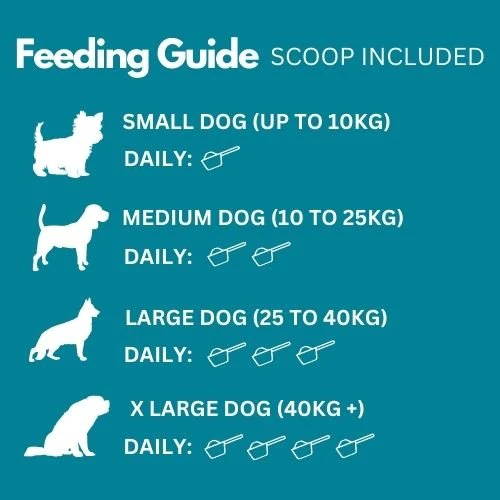 You will find a similar diagram on the back of all our products.
Where are your ingredients sourced?
Our ingredients are sourced globally. Where possible, we have tried to source locally as much as possible.
For example, our Ascophyllum Nodosum seaweed for our dental cleaning product is sourced from Northerh Ireland.
We have been very careful with choosing our suppliers and we only use suppliers with Quality Assurance documentation and who have done their lab certification. This ensures that the ingredients do not contain any harmful contaminants.
We always have a full list of ingredients and constitutional analysis on the label of each of products.
How should Fetched supplements be stored?
We recommend storing them in a cool and dry place, to maintain their freshness for as long as possible.
Each package will have a best before date on the back. After opening, we recommend you use them within 90 days. This should be plenty of time even for small dogs who require smaller doses.
How are you reducing your carboon footprint?
Our ingredients are sourced as local as possible, to minimise the carbon footprint. This is not possible in all cases, but we are constantly on the lookout for new suppliers to upgrade our supply chain towards becoming carbon neutral.
For checkout, we also use Shop Pay who support carbon removal projects at no extra cost.
Finally, we always use delivery services that have a high number of EV vehicles and have pledged to decrease their carbon emissions.
Are your products eco-friendly?
Absolutely. All our packaging is recyclable (pouches and other containers) and even our included scoops.
This is demonstrated by the recyclable symbol present on all our items.
What is the charity donation program?
We have pledged to donate 5% of our profits to a dog rescue charity at the end of every financial year.
The donation will be listed in our blog.
If you have suggestions or would like to dominate a preferred charity, please get in touch?
What charities have you donated to so far?
FETCHED is a new startup and we have only started trading in 2023. We have therefore not completed a financial year yet. However, we will update this page when we have made our first end of year donation.
What types of payment do you take?
We use the native Shopify payment processor which accepts payment from all the major banks. These include Visa, Mastercard, American Express but also Union Pay, and lesser known cards.
Once you have added the products to the basket, you can also check out with Google Pay (GPay) or using a Shop account.
Is my credit card info secure during checkout?
Our store uses Shopify Payments, and this provides a secure check-out, as certified by the Payment Card Industry Data Security Standard (PCI DSS). In addition, the store is PSD2 compliant and uses Shopify Payments integrated with 3D Secure checkout.
What if I need to change my billing address?
You can add your billing and shipping address at checkout.
If you need to change your shipping address after checkout, please contact us as soon as possible. We can refund your order so you can then order again with the correct address.
Shop Pay is an accelerated checkout that lets you save your email address, credit card information and your shipping and billing details once.
You can then re-use these for every shop that also uses Shop Pay. This both speeds up the process and increases security because the information does not need to be transmitted over your network everytime you check out.
Where can I get more info about promotions or talk about PR/ Marketing?
To talk to our marketing team, contact us at hello [at] tryfetched.com.
We run a wide number of promotions and have discount codes available throughout the year.
At the moment, we have a discount code for new customers which gives you 20% off your first order. The code for this is FIRSTFETCHED20. Enter this on checkout page.
What if I have even more questions?
The best way to contact us is via email.
We love to read any feedback or answer questions you have about our product. Email us at hello [at] tryfetched.com. Simply replace the [at] with @.
FAQ page last updated 16th Sep 2023.