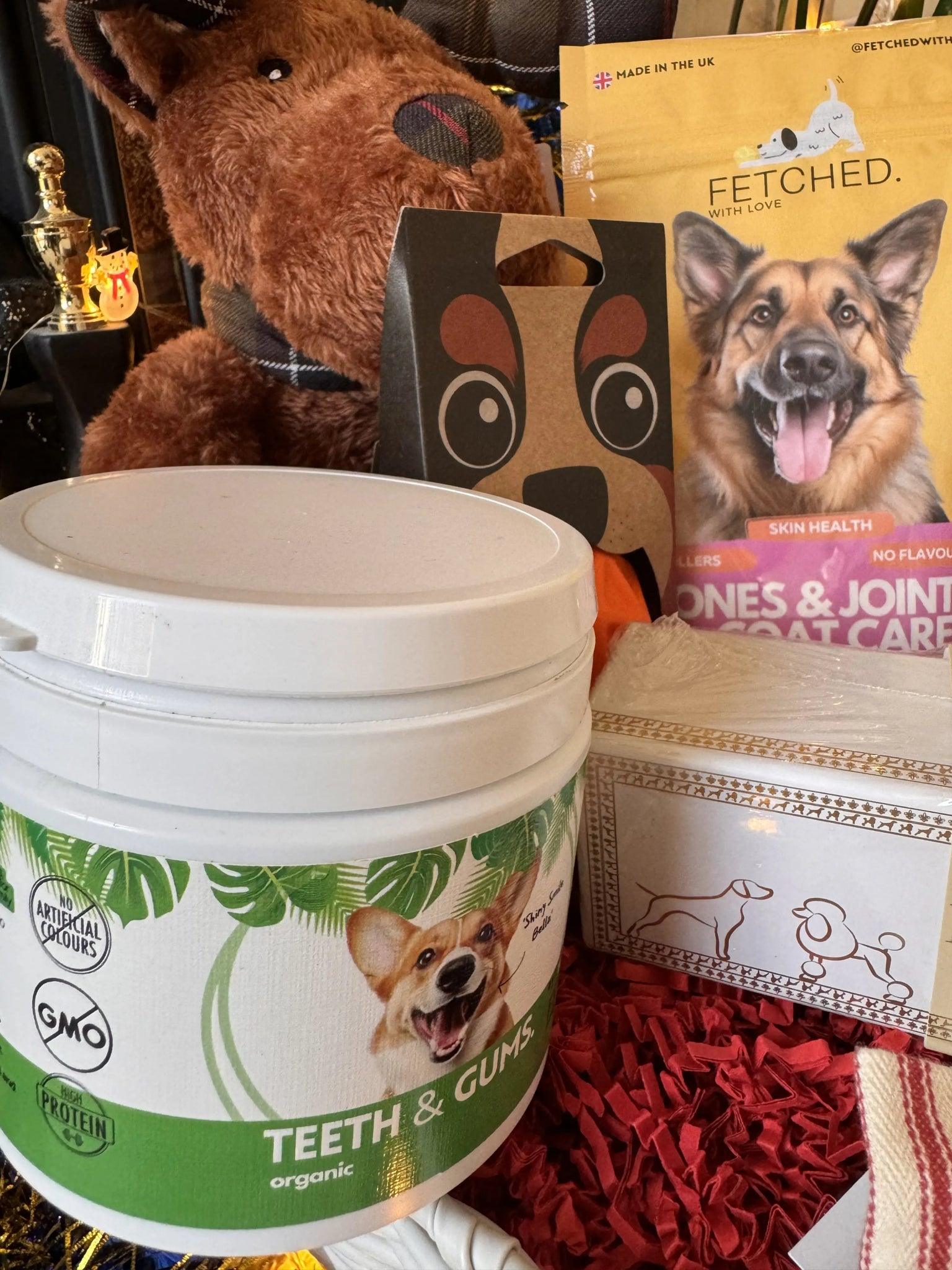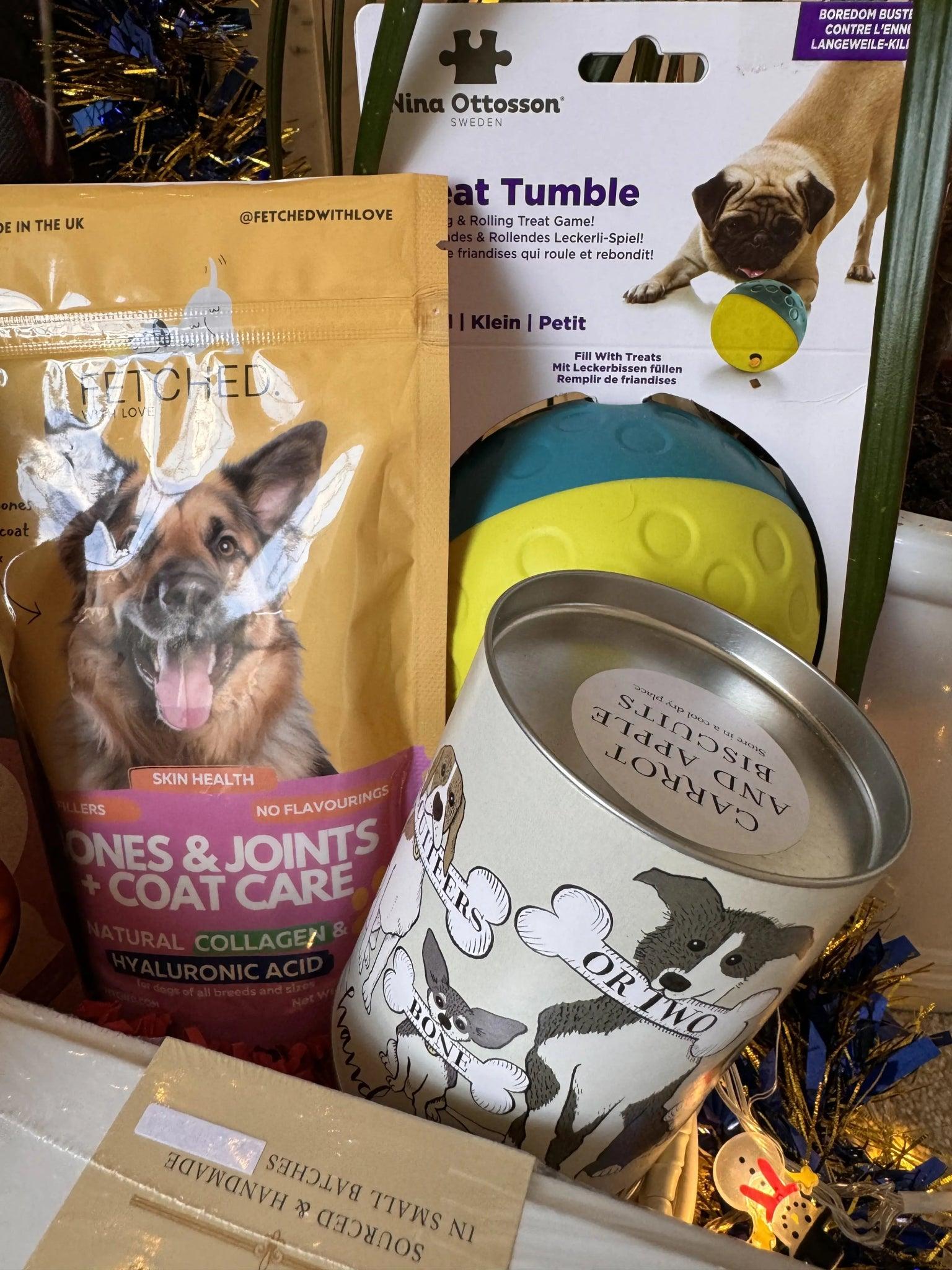 Sale price
£100.00
Regular price
Tax included.
Limited Christmas 2023 Edition
8 Uniquely Picked Luxury Gifts for your pooch
Collection of luxury brands in the pet space to help your dog experience the best of life.
Luxury Happy Dog Hampers
Sale price
£100.00
Regular price
Product description
Shipping & Return
The Ideal Luxury Dog Gifts
Still looking for the ideal luxury gift for your dog this Christmas?
Our luxury "Happy" dog hamper is the all encompassing gift for all active and happy dogs.
We went out and fetched the 8 best dog treats, active toys, puzzles, superfoods, supplements, and accessories for dogs. These uniquely selected products by our experts ensure a well-rounded approach to all-size active dogs, from Toy Poodles to Great Danes!
What's in this dog hamper you ask?
Let's dig in and take a look!
Dog Treats:
Luxurious Macarons for dogs from Bonne et Filou, made in USA.
The crème de la crème of luxury artisana treats - the dog macarons. We've shipped these straight over from USA. They are handmade with local ingredients.
These dog macarons are:
100% Natural
With no preservatives, no artificial colours or flavours, no wheat, no corn
Endorsed by Vets
What flavour you may ask? Peanut Butter! Every dog's favorite 😊. Just make sure your dog's isn't allergic to peanuts (most dogs aren't).
The ingredients are Oat flour, Honey, Coconut Oil, Sugar, Peanut Butter, Natural Flavour, Lecitin, and Salt. No nasties, only what's best for your dog.
Biscuiteers Carrot and Apple Homemade biscuits. It contains the purest ingredients and is made in the UK.

No nasties have been added and it's also handmade by Biscuiteers themselves! If you're not familiar with them, they mainly make luxury decorated biscuits for humans.
Luxurious Dog Toys
Barbour Rabbit Dog Toy: Tartan Squeaky Reindeer Dog Toy. For the most discerning top dogs and their owners. This luxurious human grade quality toy is as soft as a teddy bear. It will provide your loving four legged friend with hours upon hours of fun.
Designer Puzzle Dog Toy and Fetch Ball
For the smartest and cutest dogs only!
Enjoy the famous Nina Ottosson Treat Tumble. Ideal for small and medium dogs, this treat puzzle toy also featured in our top 5 hacks to keep your dog entertained at home.
Here's a video of Nina herself explaining how the treat tumble works and why it's an ideal way to stimulate your dog's mind.
There are basically two holes for treats. You place your treats inside and then let your dog do the job of trying to get them out.
The treat tumble ball is level 1 - Easy so it's for beginners. However, it's a brilliant way of getting your dog used to puzzles. There are other treats of medium and harder skill levels, all the way up to level 4.

The orange ball is our hand-picked fetch ball. Made by Waboba, it's our favorite fetch ball and has so far lasted our dog Charlie over 5 months.
It's made of durable rubber which is extra bounce for chasing fun. 
Collagen for Dogs and Teeth Cleaning Seaweed with Spirulina
Because an active and playful dog deserves the best supplements money can buy.
Our collagen for dogs powder is over 85% Pure Hydrolyzed Bovine Collagen peptides. The rest is a combination of Hyaluronic Acid, Glucosamine, and Vitamin C. This is an ideal vet and nutritionist formulated food topper for active dogs.
As you know, collagen helps with bones, joints, and skin health in humans. These benefits subsequently extend to our furry friends too.
Our second product, the organic Teeth & Gums powder contains a mixture of beneficial organic seaweed powders for dogs.
An expertly formulated blend of three seaweeds, this can help improve your dog's oral health. We know you'd wnat your dog to have a fresh breath especially when all the family is around!
What's next in our luxury dog hamper?
Dog Bow Tie
Last but not least is the dog bow tie to make your dog look like the smartest pet in the family this Christmas!
Sold by Mutts and Hounds, this bow tie with red stripes can help your doggy blend in. It can easily attach to the existing collar through elastic straps, so it will fit all collar sizes.
Finally, your luxury dog hamper for active dogs will come wrapped in transparent film, with a bow tie and a heart shaped basket. This will be exactly as you can see in the photo.
It's a hamper basket that's ready to be placed under the Christmas tree for your dog to enjoy on Christmas day!
All the 8 products in this dog hamper are full size, just as you see in the photos. No paid promotion or commission has been received from any of the brands in this basket and we at Fetched are not affiliated with any of the external brands. The products have simply been picked and bundled together by us. They encompass, in our opinion the current luxury products on the market for active and playful dogs.
Please note that this product ships mid-November. Why not combine this with a dog advent calendar as well?
Shipping cost is based on weight. Just add products to your cart and use the Shipping Calculator to see the shipping price.
We want you to be 100% satisfied with your purchase. Items can be returned or exchanged within 30 days of delivery.